BN+ BRINANOVARA
curated by Valentina Muzi


12.09.20 / 12.10.20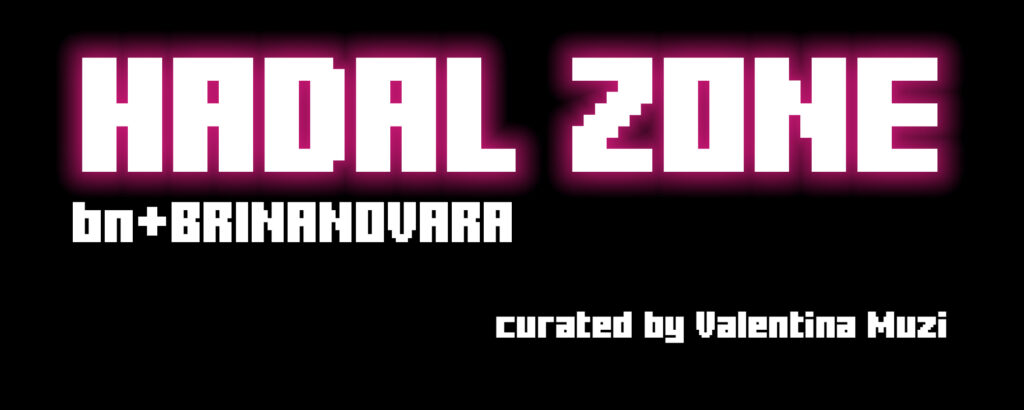 INAUGURAZIONE: sabato 12/09/20 – 19:00 // Spazio In Situ > via San Biagio Platani 7 – Roma [l'inaugurazione si svolgerà seguendo le normative vigenti]
OPENING: saturday 12/09/20 – 7:00 pm // Spazio In Situ > via San Biagio Platani 7 – Roma [the opening will take place according to current regulations]
---
Sul fondo degli oceani si aprono dei crepacci che si estendono in profondità per chilometri. Nella regione Adale l'oceano diventa discreto e il tempo è autonomo. La neve marina che precipita per settimane vi permette la vita.
L'immagine regola la nostra epoca definendone i modelli sociali. Ma è compromessa in un'incessante riconfigurazione che produce uno scarto particellare continuo.
La zona Adale è un ambiente di possibilità per la vita di nuovi ecosistemi dove immagini dimenticate assimilano gli scarti della superficie.
Sono stati più uomini sulla Luna che nella zona Adale. _BN+
On the oceans floor there are trenches that extend deep for miles. In the hadal zone the ocean becomes discrete and time is autonomous. The marine snow that precipitates for weeks allows the life there.
The image regulates our time by defining its social models. But it is compromised in an unceasing reconfiguration which produces a continuous particle waste.
The hadal zone area is an environment of possibilities for the life of new ecosystems where forgotten images assimilate surface waste.
More people have been to the moon than the hadal zone. _BN+
Il progetto Hadal Zone, si pone nella piega del processo artistico dove il corpus di quadri dalle tonalità profonde, insieme ad oggetti con parti fotosensibili, genera un ambiente che vuole intendersi autonomo e mutabile nel tempo. La mostra non vive per, ma insieme a Spazio In Situ e si trasforma anche quando lo spazio è chiuso al pubblico e tutto è buio, rilasciando la luce assorbita durante il giorno. Hadal Zone si rifà agli abissi marini, ai crepacci profondi che si aprono nel cuore degli oceani da sei a undicimila metri di profondità. Qui la luce non può contrastare l'oscurità regina. La stessa riempie il fondo dei dipinti, squarciati da panneggi di maniche a sbuffo, scampoli architettonici e spiragli nascosti. Ogni quadro presente si pone come un ecosistema a sé stante che coabita con gli altri sulla base di un delicato equilibrio fatto di accordi cromatici e compositivi. Personaggi senza volto entrano in relazione con lo spettatore creando un dialogo silente, aperto e condiviso; quasi a diventarne l'alter ego, avvolti in quel buio che non vuole annientare la terza dimensione, bensì mostrarla. I quadri – dalla serie Unpredictable Ecosystem – ricombinano e reinterpretano grandi opere della maniera, ponendo un'attenzione particolare ai ritratti. Alcune parti selezionate sono messe in luce con la pittura ad olio o con l'erosione di colori stratificati; altre sono elise nel fondo monocromo. Riecheggiano i nomi che hanno animato il Cinquecento: Bronzino, Parmigianino, Mor e Rosso Fiorentino. La ricerca e produzione degli artisti, definita dagli stessi des-autoriale, si innesta nel manierismo con un'attitudine ricombinatoria simile alla post-produzione, ritrovando in essa un'affinità metodologica. Come se i pittori della maniera, a loro volta, fossero grandi burattinai di immagini preconfezionate. Di fatto, il ritratto e la sua impostazione classica riaccadono nelle porzioni tessili selezionate e riprodotte. Si annulla così la distanza temporale e si unisce il passato al presente. La moda fa il ritratto, ovvero l'immagine che ognuno vuole dare di sé, sulla base degli standard socio-culturali vigenti.
Giorgio Brina (1993, Milano) e Simone Novara (1994, Milano) fondano il duo artistico bn+BRINANOVARA sull'idea di una ricerca continua e transdisciplinare che approfondisca archetipi ecologici e culturali. Sfidando il rigore culturale a cui siamo assoggettati, in favore di un'immagine che, dall'incontro con il reale multiforme, accada come una sorta di innamoramento e diventi territorio fertile di indagine. Hanno esposto in diverse mostre personali e collettive tra le quali: Dreamt Uncanny Valley, Adiacenze, Bologna (2020), Holomovement, Dimora Artica, Milano (2020), Amnesia, Museo di Arte Contemporanea, Lissone (2019), Thunder Boogie, Crag Gallery, Torino (2019), Animal Farm, Galleria Monopoli, Milano (2019).
The project Hadal Zone, is set in the fold of the artistic process where the corpus of deep-shaded paintings, together with partly photosensitive objects, generates an environment that wants to be autonomous and mutable over time. The exhibition lives along with rather than for Spazio In Situ and transforms even when the space is closed to the public and everything is dark, by releasing the absorbed daylight. Hadal Zone refers to the deep sea trenches which open in the ocean's heart from twenty to thirty-six thousand feet deep. Here the light cannot counteract the sovereign darkness. The same darkness fills the bottom of the paintings, torn by draperies of puffed sleeves, architectural remnants and hidden glimmers. Each featured painting sets itself like a stand-alone ecosystem that coexists with the others; on the basis of a delicate balance made of chromatic and compositional harmonies. Faceless characters engage a relationship with the viewer creating a silent, open and shared dialogue. Almost becoming their alter ego, wrapped in that darkness that wants to show the third dimension instead of annihilating it. The paintings – from the Unpredictable Ecosystem series – recombine and reinterpret some great Mannerist artworks, paying a special attention to portraits. Some selected parts are highlighted with oil painting or by the erosion of layered colours. Others are elided in the monochrome background. The names of whom animated the Cinquecento echo: Bronzino, Parmigianino, Mor and Rosso Fiorentino. The research and production of the artists, by them defined de-authorial, grafts into Mannerism with a recombinatorial attitude similar to post-production, because of finding a methodological affinity in it. As if the painters of the Manner, in turn, were great puppeteers of pre-manufactured images. In fact, the portrait and its classical setting happen anew in the selected and reproduced textile portions. The temporal distance is thereby cancelled and the past is joined to the present. Fashion makes the portrait, or rather the image that everyone wants to give of themselves, based on the current social and cultural standards.
Giorgio Brina (1993, Milan) and Simone Novara (1994, Milan) formed the artist duo bn+BRINANOVARA on the idea of a continuous and trans-disciplinary research which deepens cultural and ecological archetypes. They challenge the cultural rigour we are enslaved to, in favour of the happening of the image as a kind of falling in love. It results from the encounter with the multiform real and becomes a fertile enquiry land. They exhibited in several solo and group shows among which: Dreamt Uncanny Valley, Adiacenze, Bologna (2020); Holomovement, Dimora Artica, Milan (2020); Amnesia, Museo di Arte Contemporanea, Lissone (2019); Thunder Boogie, Crag Gallery, Turin (2019); Animal Farm, Galleria Monopoli, Milan (2019).
share on